Wissenschaftlicher Mitarbeiter
Professur für Didaktik der Informatik
André Greubel
Mathematik West (30)
Building:
(30) Mathematik West
Projekt(e): Nachqualifizierung für Informatiklehrkräfte, Die Zukunft des MINT-Lernens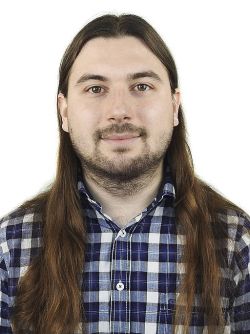 Sprechstunde
Sprechstunde nach Vereinbarung per E-Mail.
Pöhner, N., Schmidt, T., Greubel, A., Hennecke, M., Ehmann, M.:

BlocklySQL: A new block-based editor for SQL.

Proceedings of the 14th Workshop in Primary and Secondary Computing Education

.

S.

4:1-4:2

.

ACM, New York, NY, USA

(2019).

Berges, M., Ehmann, M., Gall, R., Greubel, A., Günzel-Weinkamm, N., Haller, V., Hennecke, M., Heuer, U., Kronawitter, J., Lindner, A., Pöhner, N.:

Erfahrungsbericht zur Qualifizierungsmaßnahme Informatik als Erweiterungsfach (Lehramt Realschule) in Bayern.

GI-Fachtagung Informatik und Schule (INFOS 2019).

(2019).

Greubel, A., Hegemann, T., Ifland, M., Hennecke, M.:

Relevanz der Codequalität in einem Praktikum mit automatisch getesteten Programmierabgaben.

Vierter Workshop zur Automatische Bewertung von Programmieraufgaben (ABP 2019).

27-34

(2019).

Greubel, A., Dmitrienko, A., Kounev, S.:

SmarTor - Smarter Tor with Smart Contracts.

Annual Computer Security Applications Conference (ACSAC 2018).

(2018).