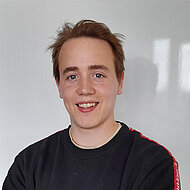 Telefon
(0931) 31-96636
Telefax
E-Mail
leo.strobel@uni-wuerzburg.de
Raum
A204

Anschrift

Lehrstuhl für Informatik III
Am Hubland
D-97074 Würzburg
Energy system analysis and optimization
Simulation of transport systems
Optimized grid integration of electric vehicles
Neuste Veröffentlichungen
2022
2021
Strobel, L., Schlund, J., Brandmeier, V., Schreiber, M., Pruckner, M.:

Smart Charging and Renewable Grid Integration - A Case Study Based on Real-Data of the Island of Porto Santo

. In: Afonso, J.L., Monteiro, V., and Pinto, J.G. (eds.) Sustainable Energy for Smart Cities. pp. 200–215. Springer International Publishing, Cham (2021).