DAEDALUS - Descent And Exploration in Deep Autonomy of Lava Underground Structures
The Open Space Innovation Platform (OSIP) Lunar Caves-System Study is carried out by
Julius-Maximilians-Universität of Würzburg (JMUW, prime contractor), Germany
Jacobs University Bremen gGmbH, Germany
University of Padova, Italy
INAF-Astronomical Observatory of Padova, Italy
VIGEA – Virtual Geographic Agency, Italy
The goal of this mission is to explore hazardous and extreme environments using a compact spherical robot device equipped with a 3D LiDAR, stereo camera vision, and locomotion subsystem as well as additional auxilary housekeeping sensors. It is designed specifically with the aim of investigating underground lava tubes on the moon or on other extraterrestial domains, i.e. asteroids or planets, where high autonomy is necessary. By creating a 3D modell of the insides of those lava tubes the robot identifies potential geologic resources and characterizes environmental properties of these subsurface corridors. They might even have the possibility of inheriting stable conditions in terms of radiation and temperature, which would bring lunar or exoplanetary base-building and human settlement within our grasp.
DAEDALUS - Final Presenation
Please download the final report [here - coming soon]
The mission originated in the context of the DAEDALUS program of ESA (refer to En route to exploring lunar caves). It is a joint project of many institutions involved, i.e. Jacobs University of Bremen, University of Padova in Italy, and the Virtual Geographic Agency (VIGEA). The contribution of the University of Würzburg include studies and prototypes regarding LiDAR, impetus, and software of the spherical robot device.
An initial 10cm diameter prototype of the sphere was built, housing a LiDAR system consiting of a 2D laserscanner and an IMU as payload. This prototype was used to study the quality of point cloud data such a setup could produce when being rotated (but not translated!), hence creating a 3D map of the environment using the orientation information. Therefore, sample scans have been aquired on a FloatSat test bench.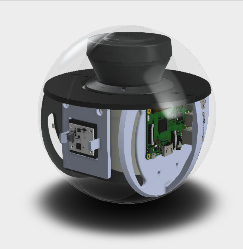 Prototype II // L.U.N.A sphere
A second prototype, called L.U.N.A (abbr. "Lasermapping Unidirectional Navigation Actuator"), has been built within the FloatSat Design Lab which is a part of the Satellite Technology (SaTec) Master study program. That prototype (download blueprint) was used to prove that a spherical robot could reliably be moved in one direction using a drive based on the impulse generated by the conservation of angular momentum (IBCOAM). Furthermore, the robot also produced a 3D point cloud using a 2D laserscanner rolling together with the sphere. This time, though, the scans were combined not only with orientation, but also with position information. However, from the test results it was hypothesized that much better performance in terms of 3D mapping is achieved by rotating a laserscanner which is able to create 3D scans on its own (even without rotating).
The hypothesis was confirmed by building another new, third prototype, now resigning the IBCOAM drive. Producing a cleaner 3D point cloud got more focus as well as developing and testing a reliable descend and ascend mechanism that can be used to lower the sphere into the lava tube entrance. For this purpose a 50 meter tether cable was rolled around a coil and connected to the sphere in order to confirm tear resistance, data connection stability, and power supply. The second prototype accomplished these purposes as the experiments produced a much cleaner 3D map of the environment, as well as revealing a stable and robust connection using the 50 meter cable. Descending and ascending movements have also been unprobrematically performed.
The final prototype has been designed (on paper) and proposed to ESA, combining all subsystems from the other institutions mentioned earlier. The subsystems have been tested individually to guarantee the functioning of each of them. When finally built, the sphere will be a compact, tightly integrated robotic device, with a complementary payload set and high autonomous capabilities.
Mode 1 descending and detaching