Würzburg and Social Program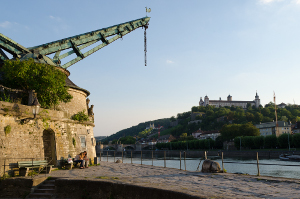 Würzburg is a small city in the center of Germany. It is easily reachable by a direct train connection to Frankfurt/Main airport. It is situated in a wine growing area with its mild climate.
The more than 1300 year old town has had its highest "impact factor" during the baroque area. The university was founded (the first time) in 1402 A.D as the 6th university in Germany. But after a short period it was closed and second founded in 1582. Here W.C. Röntgen discovered the X rays in 1895 and received the 1st Noble Price in 1901. Nowadays there are about 25000 students spread over 3 campuses.
As Würzburg has been ruled by Prince-Bishops for centuries the influence of the catholic church is ubiquitous. The shape of the town has been coined in the baroque area. The most remarkable buildings are the fortress and the residence. The thick walls (or should I say bounds?) of Fortress Marienberg will enclose the dining room for the conference dinner.
A wine tasting party will be organized in the cellars of the famous UNESCO world heritage, the Residence.
Another spectacular site is the old sculptured bridge over the river Main leading to the Town Hall Grafeneckart where there will be a reception by the City of Würzburg.
The excursion of the conference will lead to another UNESCO heritage site, the City of Bamberg. Bamberg extends over seven hills, each crowned by a beautiful church, hence it is being called the "Franconian Rome". Bamberg is also well known for its smoked beer and its historic city center.