Anika Seufert M. Sc. (née Schwind)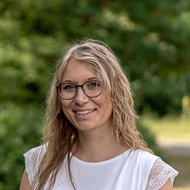 Phone
+49 0931 31-89033
Telefax
+49 0931 31-86632
E-Mail
Room
A212
Address
Lehrstuhl für Informatik III
Am Hubland
97074 Würzburg
Germany
My research interests include the following topics:
Quality of Experience (QoE) of Internet applications (e.g., video/music streaming apps, mobile messaging apps)
Measurements, analysis, and modeling of network traffic
QoE-aware network traffic management solutions
Performance evaluation and modeling of communication systems
Group-based communication
Borchert, K., Seufert, A., Gamboa, E., Hirth, M., Hoßfeld, T.:

In vitro vs in vivo: does the study's interface design influence crowdsourced video QoE?

. Quality and User Experience. (2020).

Schwind, A., Wamser, F., Hoßfeld, T., Wunderer, S., Tarnvik, E., Hall, A.:

Crowdsourced Network Measurements in Germany: Mobile Internet Experience from End User Perspective

. Broadband Coverage in Germany; 14. ITG Symposium. , Berlin (2020).

Schwind, A., Moldovan, C., Janiak, T., Dworschak, N.-D., Hoßfeld, T.:

Don't Stop the Music: Crowdsourced QoE Assessment of Music Streaming with Stalling

. 12th International Conference on Quality of Multimedia Experience (QoMEX). , Athlone, Ireland (2020).

Hoßfeld, T., Wunderer, S., Beyer, A., Hall, A., Schwind, A., Gassner, C., Guillemin, F., Wamser, F., Wascinski, K., Hirth, M., Seufert, M., Casas, P., Tran-Gia, P., Robitza, W., Wascinski, W., Ben Houidi, Z.:

White Paper on Crowdsourced Network and QoE Measurements – Definitions, Use Cases and Challenges

. Würzburg (2020).

Schwind, A., Haberzettl, L., Wamser, F., Hoßfeld, T.:

QoE Analysis of Spotify Audio Streaming and App Browsing

. 4th Internet-QoE Workshop: QoE-based Analysis and Management of Data Communication Networks (Internet-QoE'19) (2019).
A comprehensive list of all publications can be found here: Publications
I am currently involved in the following teaching activities: Bachelor Theses, Master Theses, Practical Courses, Seminar. Topics for Bachelor Theses, Master Theses or Practical Courses can be requested at any time. A list of open topics can also be found here: Open Topics.