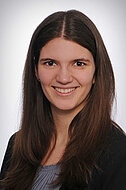 Phone
+49 931 31-80950
Telefax
+49 931 31-86632
E-Mail
viktoria.vomhoff@uni-wuerzburg.de
Room
A209

Address

Lehrstuhl für Informatik III
Am Hubland
97074 Würzburg
Germany
My research interests include the following topics:
Time-Sensitive Networking (TSN)
Internet of Things (IoT)
Software Defined Networking (SDN)
5G Mobile Communication
Traffic Measurements and Traffic Modeling
Performance Evaluation and Modeling of Communication Systems
Identification of Signaling Patterns in Mobile IoT Signaling Traffic

in

WueWoWAS 22 - KuVS Fachgespräch - Würzburg Workshop on Next-Generation Communication Networks

(2022).

Characterizing Mobile Signaling Anomalies in the Internet-of-Things

in

2nd IFIP/IEEE International workshop on Fully-Flexible Internet Architectures and Protocols for the Next-Generation Tactile Internet (FlexNGIA)

(2022).
Traffic Measurement Study on Video Streaming with the Amazon Echo Show

in

4th Internet-QoE Workshop: QoE-based Analysis and Management of Data Communication Networks

(2019).
A comprehensive list of all publications can be found here: Publications