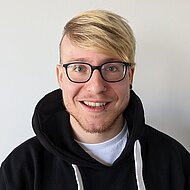 Phone
+49 931 31-86488
Telefax
+49 931 31-86632
E-Mail
simon.raffeck@uni-wuerzburg.de
Room
A208

Address

Lehrstuhl für Informatik III
Am Hubland
97074 Würzburg
Germany
My research interests include the following topics:
Time-Sensitive Networking (TSN)
Internet of Things (IoT)
Software Defined Networking (SDN)
5G Mobile Communication
Wireless Communication Protocols and Sustainability
Performance Evaluation and Modeling of Communication Systems
DBM: Decentralized Burst Mitigation for Self-Organizing LoRa Deployments

.

KuVS Fachgespräch - Würzburg Workshop on Modeling, Analysis and Simulation of Next-Generation Communication Networks 2022 (2022).

Analytical Model for the Energy Efficiency in Low Power IoT Deployments

.

1st International Workshop on Network Energy Efficiency in the Softwarization Era (2022).

Anonymized GTP Tunnel Trace in Mobile IoT

, (2022).

Data Usage in IoT: A Characterization of GTP Tunnels in M2M Mobile Networks

.

2nd IFIP/IEEE International workshop on Fully-Flexible Internet Architectures and Protocols for the Next-Generation Tactile Internet (FlexNGIA) (2022).
Benchmarking the ONOS Controller with OFCProbe

.

7th International Conference on Communications and Electronics (ICCE). , Hue, Vietnam (2018).
A comprehensive list of all publications can be found here: Publications