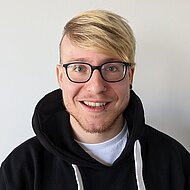 Phone
+49 931 31-86488
Telefax
+49 931 31-86632
E-Mail
simon.raffeck@uni-wuerzburg.de
Room
A208

Address

Lehrstuhl für Informatik III
Am Hubland
97074 Würzburg
Germany
My research interests include the following topics:
Time-Sensitive Networking (TSN)
Internet of Things (IoT)
Software Defined Networking (SDN)
5G Mobile Communication
Wireless Communication Protocols and Sustainability
Performance Evaluation and Modeling of Communication Systems
Generic Model to Quantify Energy Consumption for Different LoRaWAN Channel Access Methods

in

18th International Conference on Wireless and Mobile Computing, Networking and Communications (WiMob)

(2022).

DBM: Decentralized Burst Mitigation for Self-Organizing LoRa Deployments

in

KuVS Fachgespräch - Würzburg Workshop on Modeling, Analysis and Simulation of Next-Generation Communication Networks 2022

(2022).

Analytical Model for the Energy Efficiency in Low Power IoT Deployments

in

1st International Workshop on Network Energy Efficiency in the Softwarization Era

(2022).

Anonymized GTP Tunnel Trace in Mobile IoT

(2022, February).

Data Usage in IoT: A Characterization of GTP Tunnels in M2M Mobile Networks

in

2nd IFIP/IEEE International workshop on Fully-Flexible Internet Architectures and Protocols for the Next-Generation Tactile Internet (FlexNGIA)

(2022).
A comprehensive list of all publications can be found here: Publications