[Translate to Englisch:] Simon Raffeck M. Sc.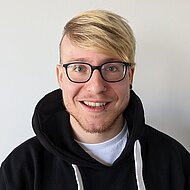 Phone
+49 931 31-86488
Telefax
+49 931 31-86632
E-Mail
simon.raffeck@uni-wuerzburg.de
Room
A208

Address

Lehrstuhl für Informatik III
Am Hubland
97074 Würzburg
Germany
The aim of this project is to develop robust, scalable industrial networks for intelligent factories and to evaluate their performance. Real-time requirements are placed on the industrial network and guarantees are required for the communication networks of the factory of the future.

5MART
(March 2019 - February 2022)
On the example of the city of Würzburg the project 5MART develops and evaluates communication technologies and architectures (5G and LPWAN) and open data platforms for smart cities.
IOT4WUE
(March 2019 - December 2020)
We develop, roll out, and evaluate a LORAWAN network in the city of Würzburg.