ZDEX: Zentrum für digitales Experimentieren 4.0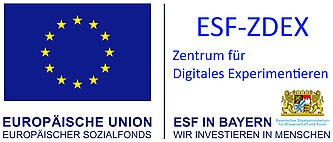 Under the supervision of the president of the JMU Prof. Dr. Alfred Forchel, the media informatics group is part of the ESF-ZDEX project. Funded by the European Social Fund (ESF), the project at the Centre for Digital Experimentation 4.0 (ZDEX) aims to strengthen the regional economy over a period of two and a half years with a focus on small and medium-sized enterprises through the targeted use of digitalization. Digital work - work 4.0 - is to be effectively promoted and designed in cooperation.
A total of five networks from artificial intelligence to bioinformatics and social robots are involved in the ESF-ZDEX:
Digital transformation and networked products (Prof. F. Thiesse)
Data mining, artificial intelligence and (deep) learning for the working world 4.0 (Prof. F. Puppe, Prof. C. Flath)
Data analysis with focus on natural language processing (Prof. F. Jannidis)
Social robots and virtual agents (Prof. B. Lugrin)
Image analysis, visualization and modeling of complex systems (Prof. Th. Dandekar)
The Media informatics group provides support to companies in the field of social robots and virtual agents. Based on the knowledge of human perception, a connection between technology and humans is created. The economy can profit extraordinarily from digitalization - it just needs to know how! After all, the best technical achievements are useless as long as they cannot be effectively made accessible to humans. In this context, social robots and virtual agents serve as an interface between technology and humans.
Through activities such as workshops, guided tours, webinars, etc., small and medium-sized enterprises (SMEs) will be introduced to the use of digital media as well as social robots and virtual agents over the next two and a half years. The companies' ideas will be digitally elaborated with our scientists. Through the networking of scientists and companies, learning effects are achieved and the participating SMEs are supported with fast and cost-effective solutions for their individual problems in establishing and dealing with digitalization in the company. Participation in the project is free of charge for the SMEs.
Radio interview of the MI-Team with Radio Gong
As kick off for the ESF-ZDEX Melissa Donnermann gave an interview at the Radio Gong Studio to inform about the project:
Recording of the interview (german)
Are you interested in a cooperation? The project team is looking forward to your inquiry!
---
Funding: ESF
Duration: 2020-2022
---
Martina Lein (M.Sc.)
David Obremski (M.Sc.)
Dr. Philipp Schaper