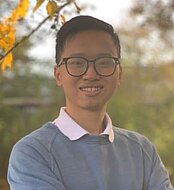 Telefon

(0155) 10329208

E-Mail
Raum

A203

Anschrift

Lehrstuhl für Informatik III
Am Hubland
D-97074 Würzburg
---
Contents: Overview | Publications | Teaching | Working Group | Projects
---
Research Interests
My research interests include the following topics:
Energy-aware resource allocation in MEC/Edge-Cloud computing
Service Function Chain (SFC) embedding in Edge-Cloud/MEC
Artificial intelligence and machine learning for IoTs at Edge
Application of new Internet technologies (SDN, NFV, P4, serverless) for OTT service embedding
Challenges of Serverless Deployment in Edge-MEC-Cloud

in

KuVS Fachgespräch - Würzburg Workshop on Next-Generation Communication Networks 2023

(2023).

Serverless Computing Lifecycle Model for Edge Cloud Deployments

in

IEEE International Conference on Communications 2023 - GreenNet Workshop

(2023).

On Profiling, Benchmarking and Behavioral Analysis of SDN Architecture Under DDoS Attacks

in

Journal of Network and Systems Management

(2023).

Traffic-Adaptive Scheme for SDN Control Plane with Containerized Architecture

in

2023 17th International Conference on Ubiquitous Information Management and Communication (IMCOM)

(2023).
Machine Learning-based Service Function Chain over UAVs: Resource Profiling and Framework

in

2021 31st International Telecommunication Networks and Applications Conference (ITNAC)

(2021).

Energy-Aware Service Function Chain Embedding in Edge-Cloud Environments for IoT Applications

in

IEEE Internet of Things Journal

(2021).