GMES and picosatellitebased automatic identification- and monitoring system for the large-scale railway transportation
---
The aim of the GP-AIMS project is the development of a real-time planning and monitoring system for the rail bound transportation within the Eurasian continent. The globalized economy is characterized by a high degree of distributed tasks over far distances and by that dependent from a reliable commodity flow (crude materials, parts from suppliers or final goods etc.). In contrast to vessel or air transportation railway transportation is more efficient as well as environmentally friendly (railroad transportation has a 60x less CO2 emission than airplane; transportation time is 50% less than by a cargo vessel). However a major shortcoming of the large-scale railway transportation is presented by accidents faults and damages either on the transportation vehicle or the rails or the switches. Also environmental influences like floodings or rockfalls etc. up to robberies are a big risk, especially on the long distances in sparsely populated areas form a considerable threat. In order to overcome the mentioned shortcomings, it is aimed to merge information from different sources, such as:
GMES-Data, particularly TerraSAR-X, TanDEM-X
General earth observation information
Satellite based position determination, e.g. Galileo
Sensor information, on board of the railroad freight, forwarded by a picosatellite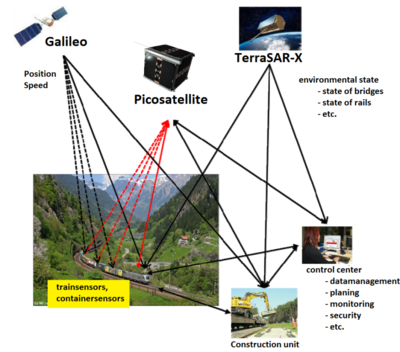 Thereby an infrastructure will be created, that is capable of efficiently utilizing the benefits of rail-based transportation and at the same time is capable of dealing with the expected growth of this transportation sector.
Project Partners
---
| | |
| --- | --- |
| Eureka Navigation Solutions ENS AG | |
| Julius Maximilians Universität Würzburg | |
| Philotech GmbH | |
| Institut für Methodik der Fernerkundung im DLR | |
| Zentrum für Telematik e.V. | |
| JSC Russian Space Systems AG (RSS) | |
| Systemtechnik Taubenreuther STT GmbH und Kayser-Threde GmbH | |
| Innoventeq GmbH | |
Contacts
---
For detailed information about the GP-AIMS project, interested people are requested to approach the team members:
Dr. Klaus Schilling
schi@informatik.uni-wuerzburg.de