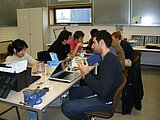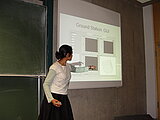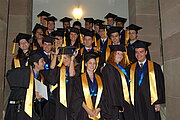 Welcome to the SpaceMaster Program in Würzburg
---
We are pleased to announce the new spacemaster program titled "Satellite Technology" starting Winter Semester 2018 in Würzburg. Click here to go to the website of the new master program.
---
Joint European Master in Space Science and Technology
at the Julius-Maximilians-Universität Würzburg which was established in 1402. Throughout its long tradition it formed a reputation for outstanding results in research and science. 13 Nobel-Prize-Winners are linked to JMUW and it is currently listed among the 10 leading German Universities.
This Erasmus Mundus Master Course in Space Science and Technology – SpaceMaster, 120 ECTS, attracts highly qualified students from around the world to study space science and technology in a research-oriented environment at six excellent European universities and two outstanding universities in Asia and in the USA .
The educational cooperation is supported by associated scientific and industrial organisations. This provides direct contacts with professional research and business sectors.
Lectures are taught in English. Successful students earn a double Master Degree, i.e. a Thesis certificate from Luleå University of Technology and a Thesis certificate from a second European partner university.
Excellent career opportunities bear good prospects for the future of our graduates.
Partners
LULEA UNIVERSITY OF TECHNOLOGY, Sweden (Coordinating institution)
JULIUS MAXIMILIAN UNIVERSITY OF WURZBURG, Germany
CZECH TECHNICAL UNIVERSITY IN PRAGUE, Czech Republic
AALTO UNIVERSITY, Finland
CRANFIELD UNIVERSITY, United Kingdom
UNIVERSITY OF TOULOUSE 3 PAUL SABATIER, France
UNIVERSITY OF TOKYO GRADUATE SCHOOL OF SCIENCE, Japan
UTAH STATE UNIVERSITY, United States