Tele-Education in Aerospace and Mechatronics using a virtual international Laboratory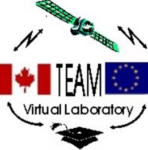 Objectives of the TEAM-Project
Provide teams of international students with the opportunity to:
Develop an international virtual mechatronics laboratory, specialised in mechatronics (integrated Mechanics + Electronics systems) and aerospace control, with facilities physically spread over Canada and Europe, but connected with the expertise of tele-operations.
Experimental use of this virtual laboratory for tele-operation experiments in aerospace control and mechatronics (TEAM)
Expand the lab to other fields of mechatronics and other universities in Canada and in Europe.
Foster student mobility and cultural exchange between Europe and Canada.
The Perspectives in Tele-Education
Modern technologies in multimedia and telematics (Telecommunications + Informatics) offer new opportunities for a more interesting and more efficient university education.
Learning via internet introduces more flexibility with respect to schedule and location.
Students can learn at their own speed.
State-of-the-art: delivery of lectures via teleconference systems or as text files.
Actual research is on improving interactivity with students.
In engineering education, laboratories are of specific importance and are addressed by the innovative TEAM approach