Best Demonstration Award auf der TMA 2018
06/29/2018
Florian Wamser, Nikolas Wehner, Michael Seufert, Pedro Casas und Phuoc Tran-Gia haben mit der Demo "YouTube QoE Monitoring with YoMoApp: A Web-based Data Interface for Researchers" den Best Demonstration Award auf der Network Traffic Measurement and Analysis Conference (TMA 2018) in Wien gewonnen.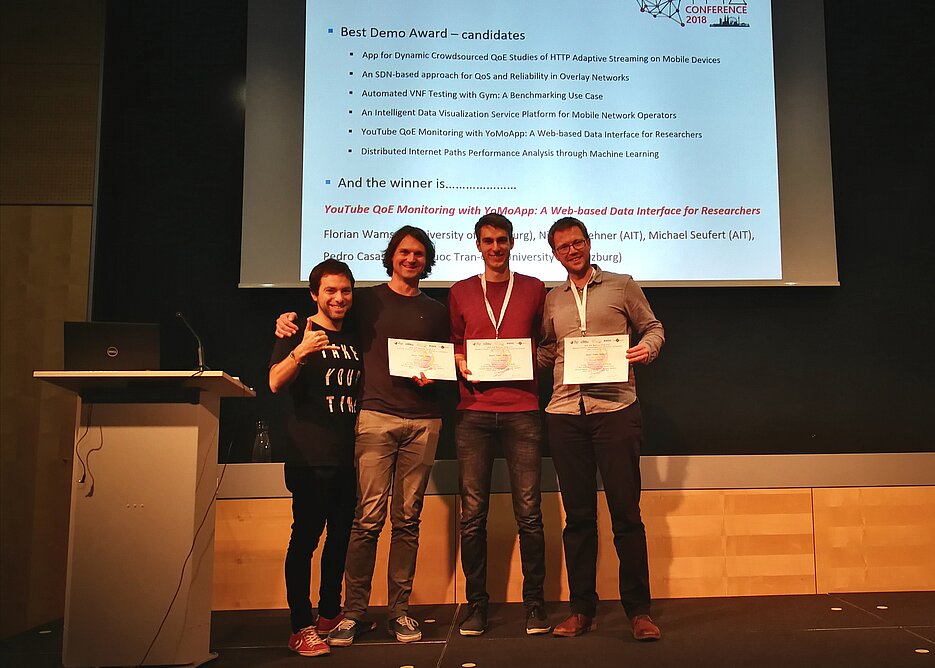 Die Gewinner des Best Demo Awards der TMA 2018 Pedro Casas, Florian Wamser, Nikolas Wehner und Michael Seufert bei der Preisverleihung. (Foto: Pedro Casas)
Was ist die YoMoApp?
Mit der YoMoApp (YouTube Monitoring App) kann man ganz normal YouTube-Videos schauen und die Qualität des Streamings bewerten. Beim Blick auf die Karte kann man dann direkt sehen wie gut das eigene und andere Netze an den verschiedenen Ecken in Würzburg oder anderen Orten abschneiden. Somit lassen sich die unterschiedlichen Provider einfach vergleichen und man erkennt direkt, wo das Mobilfunknetz gut funktioniert und wo es noch verbessert werden muss.
Was ist das Ziel der YoMoApp?
Wenn man ein Video schauen möchte, dann sollte das Streaming gut funktionieren. Ruckelnde Videos oder niedrige Bildqualität können den Videogenuss erheblich beeinträchtigen. Aber - wie viele schon am eigenen Leib erfahren haben - lassen sich vor allem unterwegs solche Beeinträchtigungen bislang nicht vollständig vermeiden. Der Lehrstuhl für Kommunikationsnetze der Universität Würzburg untersucht deshalb, was die Hauptursachen für schlechtes Streaming im Mobilfunknetz sind und wie man die Qualität von Videostreaming einschätzen und verbessern kann.
Hierfür wurde die YoMoApp entworfen. Das Ziel des Projekts des Lehrstuhls für Kommunikationsnetze ist es, eine genaue Übersicht über die Qualität der Netze in Würzburg zu erhalten. Dafür hoffen die Forscher auf eine breite Unterstützung der Bevölkerung. Je mehr Leute die App nutzen und das Streaming bewerten, umso genauere Ergebnisse können die Forscher erzielen.
Kontakt und Info
Dr. Florian Wamser florian.wamser@informatik.uni-wuerzburg.de