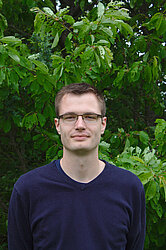 University of Würzburg
Chair of Artificial Intelligence
and Knowledge Systems
Am Hubland
D-97074 Würzburg
Room: B001
Phone: +49 931 / 31 - 81322
bjoern.eyselein@uni-wuerzburg.de
I graduated with a Master's degree in Computer Science from the University of Würzburg in December 2016 and have been a member of the Chair of Artificial Intelligence and Knowledge Systems since November 2015. My research area is the automatic correction of programming tasks, for example Python and Html. Furthermore, I am interested in current developments of programming languages and frameworks, as well as new trends in web development, in order to use them in my projects.
As part of the project "Digital Campus Bavaria", the framework it4all was developed as my main research project. This provides a web interface for programming tasks by means of which interested participants run through various lessons. The tasks are automatically corrected and the progress is displayed to the participants.
Since October 2020, I have been working as a developer in the Thesaurus Linguarum Hethaeorum digitalis project. The goal of the project is to develop an online repository for transcribed and annotated cuneiform manuscripts derived from the clay tablet collections of Hittite Anatolia and northern Syria (ca. 1600-1200 BC).
WS 21/22 | Introduction to computer science for students of all faculties (Lecturer)
SS 21 | Software engineering (Coordinator of exercises)
WS 20/21 | Introduction to computer science for students of all faculties (Lecturer)
SS 20 | Software engineering (Coordinator of exercises)
WS 19/20 | Introduction to computer science for students of all faculties (Lecturer)
SS 19 | Software engineering (Coordinator of exercises)
WS 18/19 | Introduction to computer science for students of all faculties (Lecturer)
SS 18 | Software engineering (Coordinator of exercises)
WS 17/18 | Introduction to computer science for students of all faculties (Lecturer)
SS 17 | Software engineering (Coordinator of exercises)
SS 16 | Software engineering (Coordinator of exercises)