Welcome to the Institute of Computer Science
12/04/2022
We warmly welcome Prof. Dr.-Ing. Christof Weiß as University Professor for Computational Humanities at the Institute of Computer Science.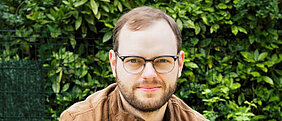 Christof Weiß studied physics at the Julius-Maximilians-Universität Würzburg and composition at Hochschule für Musik Würzburg. His work as a composer encompasses pieces for orchestra, ensemble, and choir as well as chamber music. From 2007-2015, he was a fellow of the Stiftung der Deutschen Wirtschaft (sdw) in the study and the Ph.D. scholarship program.
Starting in 2012, Christof Weiß worked towards his Ph.D. at the Fraunhofer-Institut für Digitale Medientechnologie (IDMT) Ilmenau, supervised by Prof. Karlheinz Brandenburg. From 2015 on, he was a member of the Semantic Audio Processing Group headed by Prof. Meinard Müller at the International Audio Laboratories Erlangen, a joint institution of the Friedrich-Alexander-Universität Erlangen-Nürnberg (FAU) and the Fraunhofer-Institut für Integrierte Schaltungen IIS. In 2021, he visited the Audio Data Analysis and Signal Processing group at Télécom Paris for a DFG-funded research fellowship.
In his research, Christof Weiß has developed computational methods for analyzing music audio recordings, contributing to research fields such as music information retrieval, computational musicology, audio signal processing, and machine learning. This involves the creation of multimodal datasets and the development of suitable analysis algorithms. Applying such algorithms to large music collections (corpus analysis) indicates the high potential of computational approaches for musicology and the digital humanities, which opens up various possibilities for connections within JMU.